Career Exploration: Destination America, New York City
The upcoming Study in America trip Career Exploration: Destination America, New York City is canceled. The Texas State University Student Health Center has been monitoring the progress of the COVID-19 pandemic and provided guidance that informed this decision. We are disappointed in having to cancel our trip but hope that you understand we are acting in the best interest of our students.
This program includes pre-program orientation meetings on the Texas State University campus in the fall 2021 semester and will also include a required seven-day field trip to study the public relations industry in New York City in January 2022.
Dates
Spring 2022 Term: January 9 - February 7, 2022
Program Travel: January 9 - January 15, 2022
Course Meetings: Fall 2021
Orientation Meetings
Required: Field trip to New York City, New York
What Students Will Learn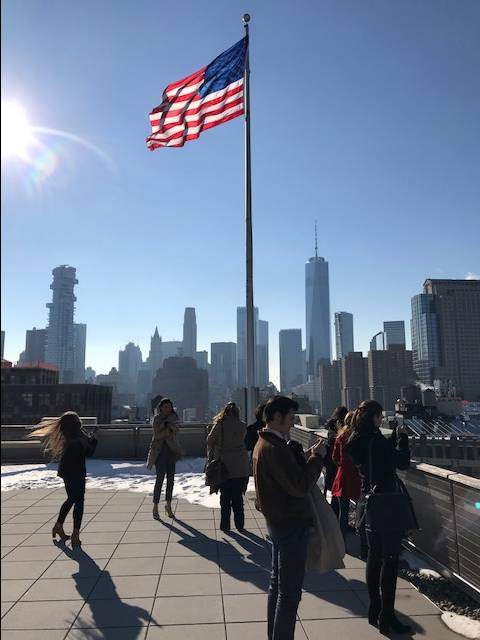 Students will learn about the public relations industry through direct access to industry operations, strategists, and decision makers at offices and departments, large and small, in the media capital of the world.
Students will interact directly with professionals in our industry and learn about entry into the New York area job market.
Students will interact directly with alumni already working as media professionals in the New York area market.
Students will be exposed to an internationally diverse part of the world and immerse themselves in multiple cultures on so many different levels - fine arts, consumerism, food, fashion, sports, and much more.
Course Options
| | | |
| --- | --- | --- |
| MC 1100H | Career Exploration: Destination America | CRN 39719 |
Important: To ensure your place in this program, you must complete the program application and then receive approval from Mr. Kaufman.
COURSE DESCRIPTION
MC 1100H: Career Exploration: Destination America
This career exploration course allows mass communication students to visit and network with media professionals in the United States under the direction of faculty. The career development trip focuses on outlets in media centers in the United States.
ELIGIBILITY
Participants must be accepted juniors or seniors in good academic standing in the School of Journalism and Mass Communication. Space is currently limited to 15 students.
Tuition and Program Fee
| | | |
| --- | --- | --- |
| 1 Hour (1 Course) | Undergraduate | $307.36 |
ADDITIONAL PROGRAM FEE
The additional program fee includes transportation to and from the airport, shuttle transportation, and lodging: $800
Important Note: Airfare, meals, subway passes in New York City, entry fees, and personal expenses are not included in the program fee.
Entry to the 9/11 museum is discounted to $20 with a student ID.
Course tuition and program fee will be billed and paid through SBS Billing and Payment.
DROPS AND REFUNDS
All university policies regarding installments, course drops, and refunds apply to all billed and paid tuition and program fees.
Important COVID-19 Information
All participants in Texas State Study in America programs adhere to the health guidelines in the Texas State University Roadmap, including the Health and Safety Measures and Student Roadmap page. The guidelines provided for protecting health and safety on campus also apply to field locations and travel in this Study in America program.
The field/travel portion of the program is subject to change and/or cancellation. If the field portion of the program is canceled, course instruction will continue virtually, but Texas State Study in America will refund the additional program fee (not course tuition).
NEW YORK VACCINATION REQUIREMENTS
All participants are required to comply with New York City's vaccination requirements by showing proof of receiving at least one dose of a COVID-19 vaccine authorized for use by the FDA or WHO when entering required program locations. This proof can be a physical, photocopy, or photo of the CDC Vaccination Card, official immunization record from your health care provider, or NYC COVID Safe App where you upload a photo of your CDC Vaccination Card. Visit NYC Health's Key to NYC webpage for more information. To ensure students' ability to participate in this program on location in New York City, Texas State Study in America will need to verify vaccination requirements of New York City are in place before departure.
Applying to the Program
Complete and submit the program application
Complete and submit the Approval Request to Travel during an Ongoing Pandemic form immediately after submitting the program application
Receive approval from Mr. Kaufman and the Office of Distance and Extended Learning
Register for your program's courses